We have teamed up with Steadfast and nib health funds to bring you access to great value health cover including a corporate discount.
Flexible covers to suit your needs
nib have a range of products that will suit your needs. Features include:
* Not available for residents of QLD or TAS who are covered by State ambulance schemes, pension card holders covered under State schemes or medical transfers that are not deemed medically necessary by a treating doctor.
Save money on your nib premiums with a corporate discount* of up to 6%
* Discounts vary on some products. Overseas students health cover and international workers health insurance not included.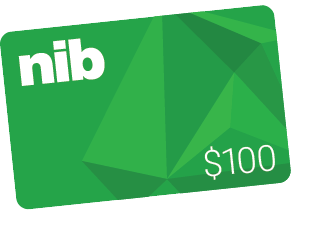 Join by 30th June 2020 and
receive a $100 eGift card
AND we'll also waive the 2 & 6 month waiting periods on Extras services
Please be advised that as the broker we will receive a trailing commission of 2% of the premium for new to nib members who join the Steadfast Health Plan.
City Rural Insurance Brokers Pty Ltd | ABN 52 074 444 296 | AFSL 237491